Hey y'all!
First, there are still about 3 days to enter my contest for some greeting cards made by my favorite artist (and sister)! Check out this post to enter. Hope you love her work as much as I do!
On to the real subject of this post- may favorite way to change up a room! You may have read about my reason for repainting some of the rooms in my house, and I hinted that I was going to be bringing in a more dramatic change in the kitchen and dining room. Today's the day I'll be showing that to you!
I mentioned on my previous post that I am working toward a more cohesive paint scheme in my house. Not necessarily painting each room the same color, but trying to keep in a consistent palette of color. After repainting the living room a more soft color, the dining room and kitchen really stood out in all of it's guacamole colored glory. Here's what we had before:
Now, I really like this color, but I may be the only one. This is the first room that I mentioned I would be painting and got the response of "oh, that sounds good" from my hubby. I think he more has an issue of the walls being named after a Mexican condiment that he despises more than the color itself, but hey, he was happier than usual about my wanting to paint, so I'll take it.
To recap, here are the colors that I just put in the adjacent living room: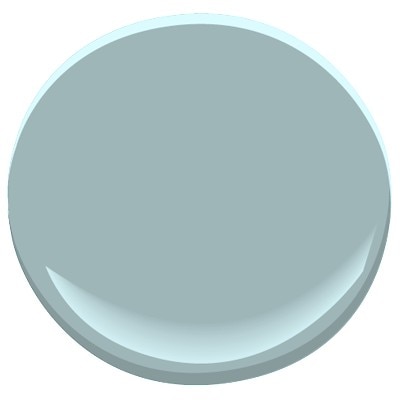 Benjamin Moore Gray Owl and Colorado Gray
And here are the two colors that I narrowed the kitchen down to: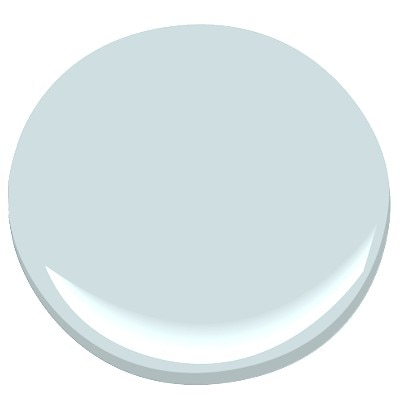 Benjamin Moore Summer Shower and Woodlawn Blue
Ultimately I chose to go with the Woodlawn Blue because it was closer to the 'mint' color pictured in my head. I chose to go with BM's Royal line of paint this time, and it certainly was thicker than the Ben line that I used a few weeks ago. I still needed 2 coats, so the paint didn't quite go as far as the Ben paint seemed to, but I used less than a gallon, so no big deal. I'm hoping that it will hold up well.
So, here's the "new" kitchen and dining room!
And some before and after:
It has definitely 'cooled down' the room by a lot, for better or for worse. I like that our darker furniture doesn't compete with the wall color any more, and I like the contrast that's there now.
Eventually I would like to replace the kitchen counters, which are in kind of rough shape, and right now I'm leaning toward a dark butcher block, although it's so far down the road that I'm sure I'll change my mind about 15 times before then.
So, for about $50 and a few hours of my time, I was able to change the look of my room pretty dramatically. Now this room had minimal furniture to move, so painting may not always fit in the 'easy to check-off' category, but it's definitely a good bang-for-your-buck investment.
Any painting projects going on out there for you all?
Thanks for stopping by!
~Amy